Banger RC Fucking Machine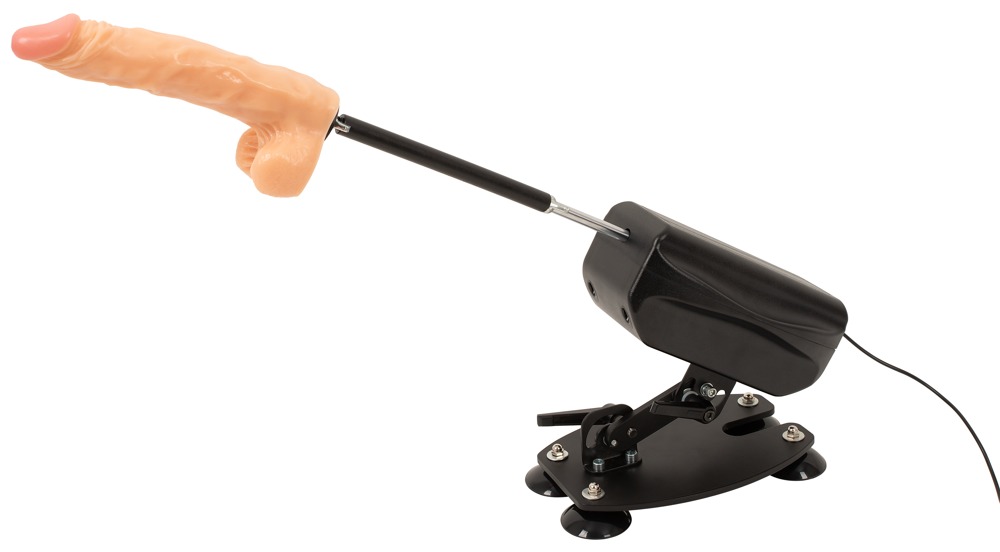 Mains-powered sex machine
Small, compact, easy to hold
Incl. 2 penis look dildos with balls
Incl. masturbator with sleeve in a vagina look
Practical remote control – range 10–15 m
Adjustable – the angle can also be adjusted
Thrust length 4.5 cm
10 thrust modes in 33 speeds
A small, fancy sex machine!

Compact, mains-powered RC Fucking Machine from You2Toys including 2 dildos and 1 masturbator for various, endless sex fun. The light, powerful sex machine has suction cups that stick securely to all smooth surfaces. The sex machine and the angle can be adjusted so that a person can also enjoy it without having to use their hands.

The thrusts with a length of up to 4.5 cm can be controlled with the included remote control. It has a range of 10–15 metres which means that a partner can also take control of the thrusts. 10 exciting thrust modes in 33 speeds provide individual and diverse pleasure.

The two included, flexible realistic dildos with pronounced veins, bulging glans and large testicles are perfect for intense and realistic thrusting fun. The silky soft sleeve of the included masturbator has a realistic vagina look and also provides an extremely realistic experience. The sleeve can be removed for easy cleaning.

Sex machine (22 cm x 15 cm x 17 cm), rod 12 cm long, extension rod 20 cm long. Power cable incl. adapter 280 cm long.
Material: Metal, ABS, PVC, TPE.

Light skin-coloured dildo 22.5 cm long, insertion length 17.5 cm, Ø max. 4.5 cm. PVC.
Dark skin-coloured dildo 24.5 cm long, insertion length 18 cm, Ø max. 5 cm. PVC.
Masturbator 19.7 cm long, insertion depth 15 cm, Ø 1.7 cm, stretchable to max. 5 cm. TPE, ABS.